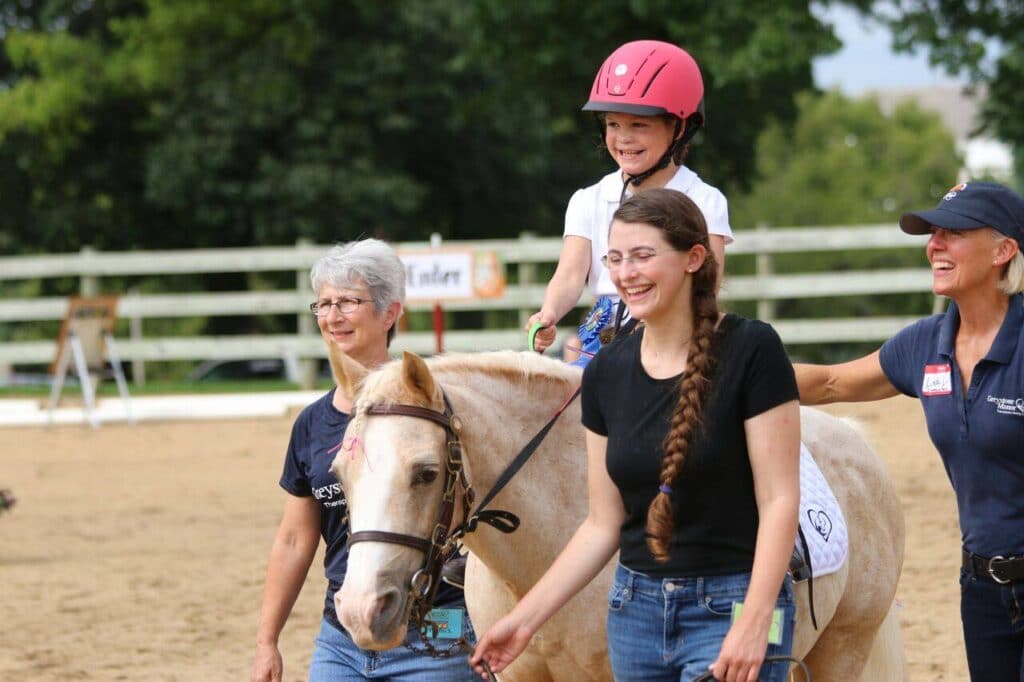 Volunteers are the hands and heart of Greystone Manor Therapeutic Riding Center (GMTRC). Every year over 150 volunteers donate more than 7500 hours of their time to our organization; GMTRC would not be able operate without our volunteers.
We serve children and adults with special needs and provide the opportunity for them to learn riding and horsemanship skills and gain the benefits that come with the equine-human partnership. Riding helps improve balance, coordination, endurance, strength, social relationships, and self-esteem. Volunteers make this experience possible and have the chance to make a huge difference in the lives of our participants.
Our volunteers find serving as a part of our programs to be incredibly rewarding. Whether you are an enthusiast with many years of equine experience, or someone with no experience, you will gain many personal benefits, opportunities to learn, and the chance to share in our participants' joys and triumphs.
Volunteers assist in every aspect of our program and are provided training opportunities for each area. Volunteer roles include: Lesson Volunteers, Barn Volunteers, Schooling Riders, Professional Volunteers, Facility Assistants, and more!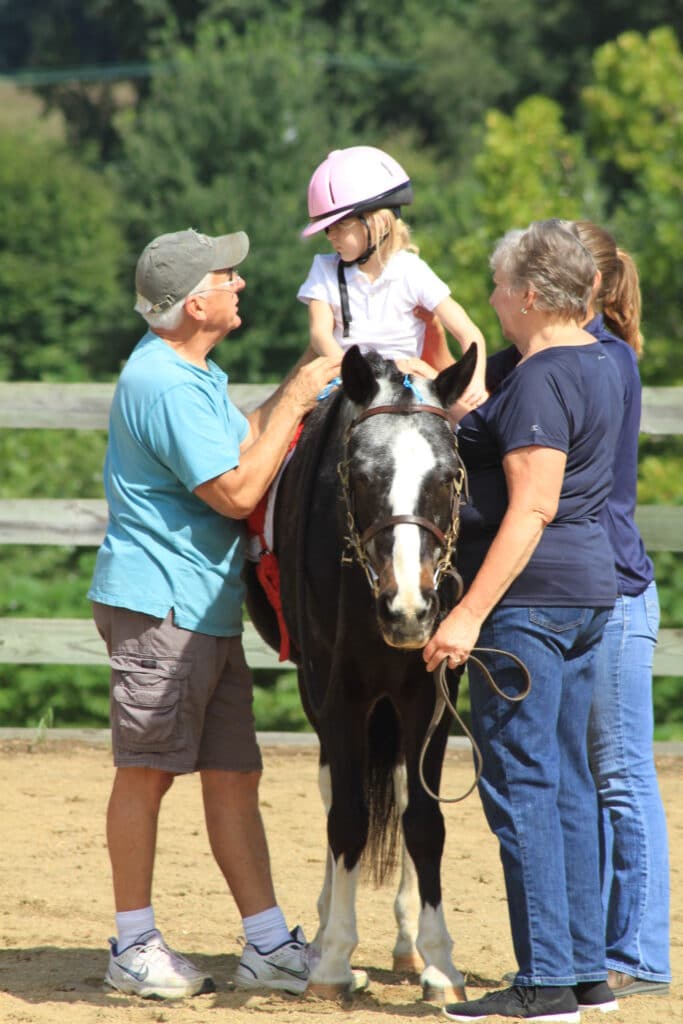 How to Become a Volunteer
Review our Volunteer Handbook for Volunteer Program Information and Requirements (GMTRC welcomes volunteers 14 years of age and older)
Complete our online application through our Volunteer Portal (button below). This is a two-part process.

Part 1 is a screening to help us determine if your availability and interests fit with our program.
Part 2 will ask for the full information we need to register you as a volunteer. (You will receive the link for this via email once our staff have reviewed Part 1 of your Volunteer Application.)

Sign up for a New Volunteer Orientation (NVO) session. This training is required for all new volunteers.
Once you have completed NVO, you will be able to start volunteering! We will provide you information about available time slots and let you know how to sign up.
Two signature forms must be fully completed and submitted with your online application:
All volunteers 18 years of age and older (except those still attending high school) must submit the following clearances:
Single day and special event volunteers do not need to submit clearances unless working directly with clients/participants.
Click Here To Visit The Volunteer Portal
2019 Volunteer Orientation Dates
New Volunteer Orientation (NVO)
Saturdays: Jan 26, Apr 20, Aug 3, Nov 16
Wednesdays: Feb 27, May 8, Jun 5, Sept 25 
Please contact our Volunteer Coordinator with questions!
BY PHONE: (717) 203-7388
[pta_member_contact id="218″]