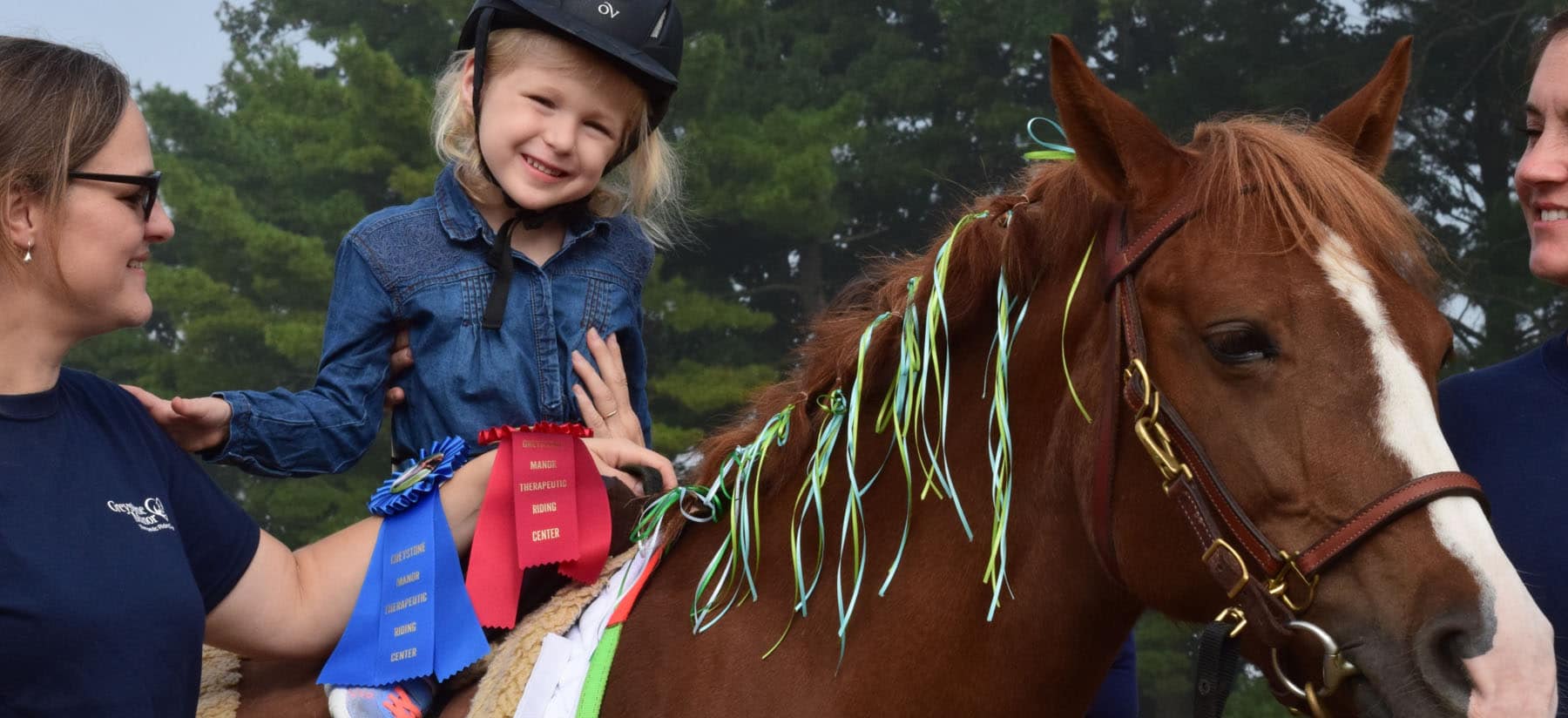 Who is the typical GMTRC student?
Boys, girls, men, and women, ages four to seniors. Primary diagnoses include: MS, CP, Down Syndrome, Autism, Intellectual Delay, Brain Injury, Stroke, surgical recovery, arthritis, depression, anxiety, ADHD, etc.
Who are GMTRC's instructors? How are they trained and certified?
All of our instructors are certified either through our national credentialing organization, Professional Association for Therapeutic Horsemanship (PATH), or through our PA state credentialing organization, Council for Education and Certification in Therapeutic Horsemanship (CECTH). See the GMTRC Staff page on our website for photos and bios of our highly skilled instructors!
What does the typical riding lesson look like?
A certified instructor, horse leader, two side walkers and an equine are chosen for the student. If riding for the first time, a private lesson is provided to promote success. Once deemed appropriate based on age and ability level, riders may advance to a semi private lesson with one other rider and up to 3-4 total riders. Lessons are 45 minutes long and run for six weeks in a row.
Where do we get our horses? How are they trained?
We get our horses from a variety of places, primarily local horse owners and farms who know about our program and think they have a horse that would be suitable for therapeutic riding work. We maintain our horses through a weekly schooling riding program to keep them in shape physically and mentally. If needed, we utilize a variety of horse trainers in the area to help us keep our horses well trained.
What is the difference between Therapeutic Riding, Equine Assisted Learning, and Hippotherapy?
GMTRC currently offers therapeutic horseback riding, which PATH Int'l defines as, "an equine-assisted activity for the purpose of contributing positively to the cognitive, physical, emotional and social well-being of individuals with special needs."
GMTRC does not currently offer hippotherapy services. The American Hippotherapy Association, Inc., defines hippotherapy as a physical, occupational or speech therapy treatment strategy that utilizes equine movement. This treatment strategy is used as part of an integrated treatment program to achieve functional goals.
PATH Int'l defines Equine Assisted Learning as, "an experiential learning approach that promotes the development of life skills for educational, professional and personal goals through equine-assisted activities."

Our current GMTRC programs that involve an EAL approach include monthly adult horsemanship clinics, summer camp programming with Aaron's Acres, school district adapted field trips, and visits from various other community organizations, such as the Girl Scouts. Please see the 'Programs' page on our website or contact the program phone at 717-615-9222 or email

[email protected]

for more information
How many times per week does each student ride?
Each student rides for 45 minutes one time per week for a six-week session.
How do I register for therapeutic riding lessons?
Call the program phone at 717-615-9222 or email [email protected] for more information.
How do I ask someone to come speak to my organization about your program?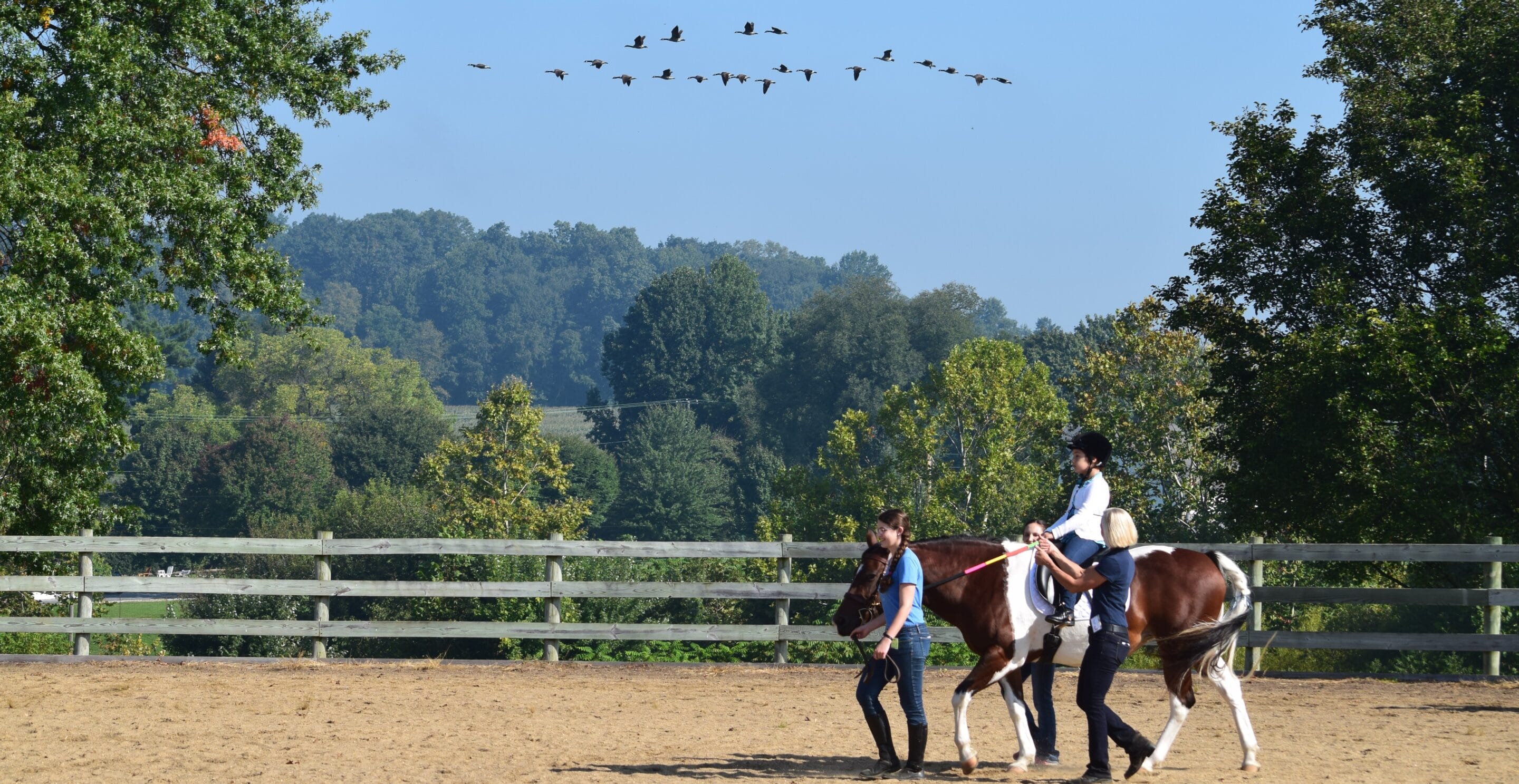 Do I need to pay for lessons in advance?
Invoices are mailed once a participant has been confirmed for a session of riding. Payment is expected upon receipt of invoice.
Does GMTRC accept Medicaid or insurance claims?
GMTRC does not currently participate in Medicare or insurance billing.
Does GMTRC accept cash or checks for payments?
For confidentiality and efficiency of record keeping, we prefer to receive payments by check – mailed to our PO Box address.
I do not know if I can afford sessions. Who can I talk to about this?
Contact our bookkeeper at 717-844-1798 or [email protected] to learn about payment and scholarship options.
Are there groups or businesses who may offer financial support for equine therapeutic riding?
Many clubs or private organizations welcome requests for financial support for riders. Contact our bookkeeper at 717-844-1798 or [email protected] for more information.
What are the costs for equine therapeutic riding?
Fees are listed per session and include six 45-minute lessons. Contact our bookkeeper at 717-844-1798 or [email protected] for more information on our current fees.
Can I pay for several sessions in advance?
Yes – invoices can be sent in advance of the sessions you wish to ride. Please contact our bookkeeper at 717-844-1798 or [email protected] for more information.
Donations/Monetary Giving
Can I make an anonymous donation to Greystone Manor TRC?
Look for our Donation Form under the "Support Us" tab to download a form. The donation form gives you an option to check a box for anonymity. If your address is listed on the donation form, a receipt will be sent for tax purposes; however, your name and address will not be shared with outside parties.
Can I make a donation in memoriam?
Look for our Donation Form under the "Support Us" tab to download a form.
I would like to sponsor a rider for a session. Can I pay the invoice in advance?
We welcome gifts of sponsorship! Please be sure to indicate if you wish your sponsorship to be anonymous. Contact our bookkeeper at 717-844-1798 or [email protected]  for more information.
If I donate to Greystone Manor Therapeutic Riding Center, will my information be shared with others?
Financial and personal contact information is kept confidential and is not shared with outside agencies. Confidentiality is our priority; we do not sell personal information.
Will I receive a receipt for my monetary donation?
We appreciate the financial support and offer tax receipts for monetary donations when a donor's name and address is provided. Your information is never shared or sold to outside parties.

Do you need volunteers?
Yes! Our program could not run if not for our dedicated team of volunteers that help with a variety of tasks in the barn and outside of the barn. We use approximately three volunteers for each therapeutic riding student, one horse leader and two side walkers. Many other individuals volunteer their time to help feed, groom, school/train and care for our horses. We also have dedicated volunteers that assist with clerical and fundraising work. All are welcome!
Do I need horse experience to volunteer at GMTRC?
No, you do not! Our team of staff and instructors is committed to helping train our volunteers to be safe and knowledgeable around our horses. Many of our seasoned volunteers who know our horses the best, started here with no horse experience at all!
Do I need experience working with people with special needs to volunteer for lessons?
No, you do not! Our team of skilled instructors provide one on one tips and suggestions to help our riders achieve their best while participating in a therapeutic riding lesson. As a volunteer, you will be supervised by a staff member at all times during lessons.
How old do I need to be to volunteer?
Volunteers must be 14 years of age to participate.
What are typical times and expectations for a volunteer shift?
A lesson is 45 minutes long, but we ask volunteers to arrive 10 minutes early to their lesson, so expect to spend about one hour at the barn per lesson. Please see the 'Calendar' tab for dates and times of our current lesson schedule. A lesson volunteer is expected to receive individual instruction from the lesson instructor, then is paired one on one with a rider for the duration of the 45 minute lesson, to assist the rider either physically or verbally to complete their riding skills
May I volunteer at GMTRC to fulfill community service hour requirements for my school or place of employment?
GMTRC welcomes volunteers looking to achieve school or employment requirements for community service or volunteer experience! Yet, two conditions apply for volunteers seeking service hours due to the sensitive, relational nature of work with equines and people with special needs:
Continuity of volunteer teams create the best lesson environment. We ask volunteers fulfilling service hours to remain in their roles until the conclusion of their assigned six-week session.
All personnel and volunteers over the age of 17 at GMTRC must be able to provide recent, clean PA criminal and child abuse clearances. Therefore, court appointed service hours may not be fulfilled at GMTRC at this time, regardless of the age of the volunteer applicant.
Is it necessary for me to record my volunteer hours?
Yes, for both your purposes and ours, we require GMTRC volunteers to track their volunteer hours in the barn volunteer room.
What can I do if I'm not physically able to walk or jog along with a horse for 45 minutes?
GMTRC welcomes help with a variety of tasks around the barn, such as cleaning, grooming, and feeding the horses, as well as a variety of clerical tasks outside of the barn. Please contact our Volunteer Coordinator at 717-203-7388 or [email protected] to find out how your skills can be utilized within GMTRC.
Who should I contact about volunteering or about changes in my volunteer schedule?
Contact our Volunteer Coordinator at 717-203-7388 or [email protected] for all scheduling and volunteering questions.
What is the dress code/recommended clothing for volunteers (including orientation)?
Please wear clothing which is comfortable and appropriate for the weather as volunteers may be working inside and/or outside the barn depending on their assignment. Generally, more conservative clothing (long pants and shirts that are not low-cut and do not show the midriff) is recommended for safety and comfort, however in particularly warm weather shorts can be worn, provided they are long enough to cover most of the thigh. Closed-toed shoes must be worn at all times. Please avoid clothing which is overly loose or flowy and do not wear any dangling earrings, necklaces, or other jewelry as these items can create a hazard if they become caught on tack or other items in the barn. If you are not sure if something is appropriate, please ask a staff member.
Does GMTRC need help with fundraising or fundraisers?
Absolutely! If you have an interest in assisting with fundraising, please contact our Volunteer Coordinator at 717-203-7388 or [email protected] for more information.
Is GMTRC a 501c3, non-profit organization? Do you need Board members?
GMTRC is a 501c3 non-profit organization. We currently have an opening on our Board of Directors. Please contact our Volunteer Coordinator at 717-203-7388 or [email protected] if you have interest in joining our Board of Directors.