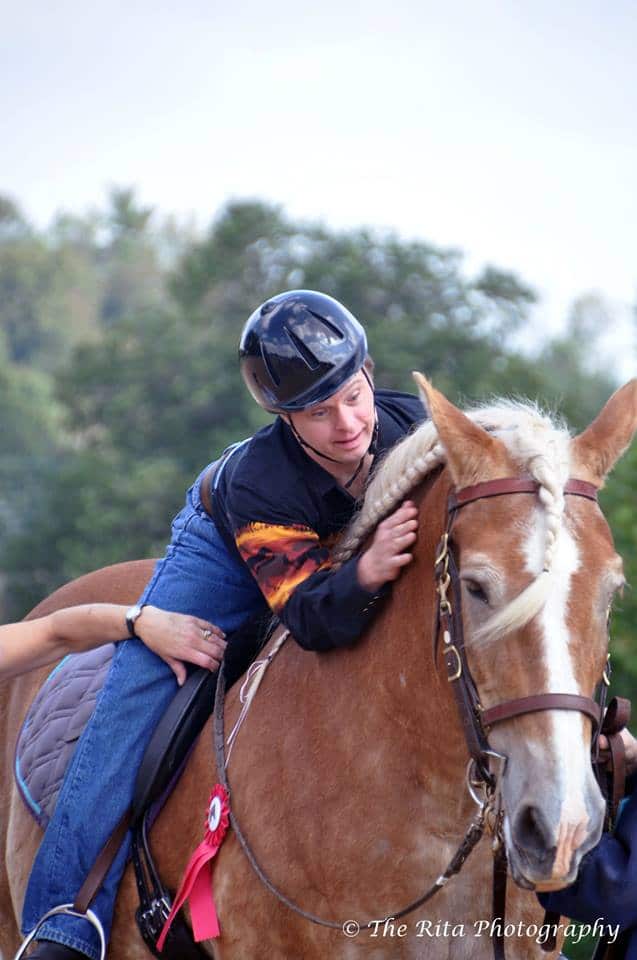 Greystone Manor TRC, a 501(c)(3) organization, has been providing quality equine-assisted activities to children and adults with special needs in Lancaster, PA, since 1981. Every year our program and number of participants grow. We started with only seven riders and now more than 50 riders participate in lessons each week.
In addition to riding lessons, we offer a monthly unmounted clinic series for individuals who want to learn more about horses from the ground level.
Our riding lessons and clinics are goal-oriented to meet the individual's personal needs. Each participant is assessed prior to lessons and goals are developed.
Throughout the world, hundreds of thousands of individuals experience the rewarding benefits of equine-assisted activities. Cognitive, physical or emotional special needs should not limit a person from interacting with horses. Such interactions can be highly rewarding.
With volunteer help, individuals with special needs can become increasingly mobile, learn a degree of control over a responsive animal, and grow in self-esteem. They can also learn to care for the horse and create a special bond with them.
Our Mission: To enhance the lives of individuals with special needs through equine-assisted activities.
Our Vision: To grow as a diverse equine-assisted activities program of distinction that is valued in our community and beyond.
Our Core Values:
Dignity – We treat everyone at Greystone Manor TRC with the highest level of dignity and respect everyone's contribution to the program-whether large or small.
Safety – We promise to "do no harm" either therapeutically or environmentally.
Professionalism – We utilize trained instructors and volunteers to ensure program excellence.
Community – We work with members of the community to build upon the network of opportunities available for individuals with special needs.
Transparency – We operate in an environment of trust and integrity offering full disclosure of our program.
Health and Happiness – We strive to provide a fun environment for all participants in conjunction with a focus on the health and happiness of our human and equine stakeholders.
The GMTRC Team:
Jennifer Rummel, Executive Director
Michelle Kaster, Programs and Instruction Coordinator, Instructor TRI
Heather Mitterer, Community Outreach Coordinator
Sandi Keim, Administrative Services/Bookkeeper
Lindsay Steiger, Volunteer Coordinator
Bobbi Schmid, Asst. Volunteer Coordinator, Barn Assistant
Kristina Weaver, Programs Support Coordinator
Ellen Barnes, Instructor TRI, PQI, CR2
Lee Ann Ressler, Instructor TRI, PQI
Linda Leiden, Instructor TRI, ESMHL
Deb Jeffrey, Instructor TRI
Kelly Wisniewski, Instructor TRI
Katie Miller, Instructor TRI
Katie Gingrich,  Instructor TRI
Justina Hertzler, Schooling Riding Coordinator, Instructor-In-Training
Lisa Carvell, Barn Manager
Alice Brubaker, Barn Assistant
Diane Garrett, PM Barn Assistant
Terri Kutz, Lead Weekend Barn Volunteer
Troy Hess, Lead Facilities Volunteer
Certifications
TRI – Therapeutic Riding Instructor – PATH International Therapeutic Riding Instructor
PQI – Pennsylvania Qualified Instructor through PACTH (Pennsylvania Council on Therapeutic Horsemanship)
CR1 – Centered Riding Instructor Level 1 through Centered Riding, Inc.
CR2 – Centered Riding Instructor Level 2 through Centered Riding, Inc.
Board of Directors
Tom O' Brien, President
Drew Hostetter, Treasurer
Mary Beth Schweigert, Secretary
Members of the Board
Randy Metz
Terri Kutz
Ellen Funk
Marilu Garofola
Kristin Glass
Marilyn Gehringer
Retired